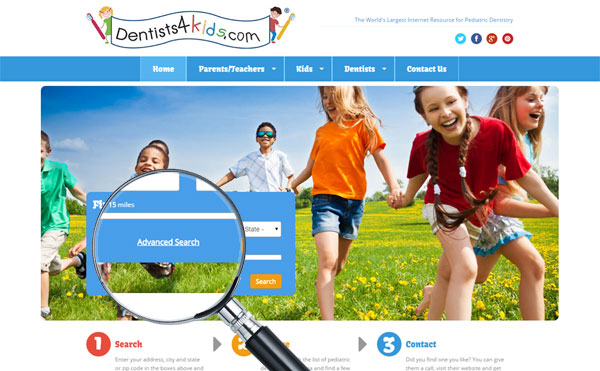 Dentists4kids.com Includes Search by Services, Insurance Plans
Dentists4kids.com recently expanded search capability to allow parents to find pediatric dentists in their neighborhood by services offered and insurance plans accepted. This Advanced Search feature comes on the heels of an enhanced site design which has made Featured Listings on the Dentists4kids.com website more valuable than ever.
Dentists4kids.com keeps getting better.
Since 2000, Dentists4kids.com (a sister company of Smile Savvy) has been the leader in connecting parents to pediatric dentists. This year marks our 15th Anniversary and we've celebrated by redesigning our website to make it even more useful to parents and more valuable to the dentists we serve.
Featured Listings provide tremendous value to dentists.
Dentists4kids.com continues to be the largest internet directory of pediatric dentists in the world. We provide two types of listings, Basic and Featured (previously known as "Premium Listings").  Basic listings are complimentary and only contain address and phone number information. Featured listings, however, offer priority listing placement, full search engine friendly pages and our new Advanced Search. You can read more about changes to the Dentists4kids.com website and the additional benefits of Featured Listings on the Smile Savvy blog.

Patients get what they're looking for.
Advanced search makes the Dentists4kids.com website more valuable to prospective patients as well. For example, if a parent wants to find a pediatric dentist that has specific services such as laser dentistry, special needs treatment, etc., or if they have a specific insurance, they can search by that criteria on our directory. Simply put, parents get more of what they want when searching. Of course, only dentists with a Featured Listing will show up in Advanced Search because they're able to list more information about themselves on the Dentists4kids.com website.
UPDATE YOUR LISTING NOW TO BEGIN BRINGING MORE NEW PATIENTS TO YOUR PRACTICE.
Your business and practice success is VERY important to the Smile Savvy/Dentists4kids.com team. Visit our website to see all of our products and pricing. Please contact us if we can answer questions or be of further help with your internet marketing needs. You can reach us at info@smilesavvy.com or 877-337-7037.