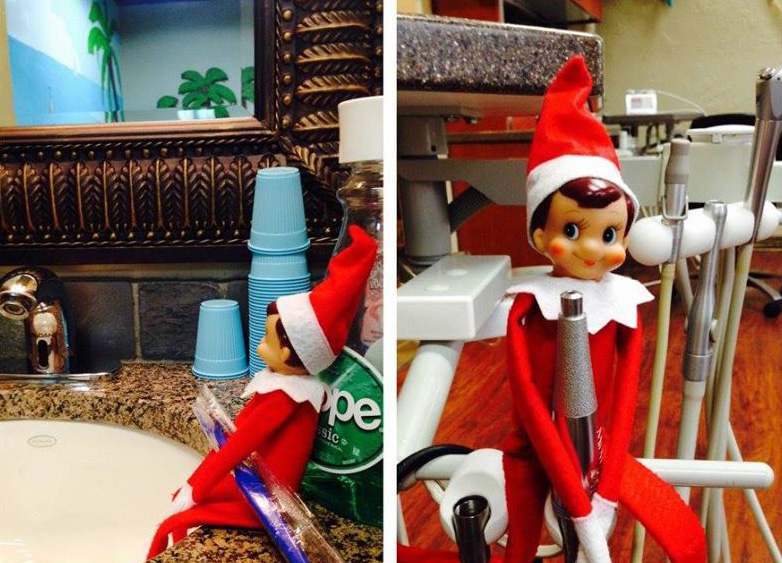 Pediatric Dentists: Use Elf on the Shelf for More Social Media Engagement
If you're active on social media at all, we're certain you see a lot of Elf on the Shelf posts this time of year.  They can be hilarious and people always LIKE and SHARE the best ones.  Pediatric Dentists have gotten in on the act as well, using Elf on the Shelf to bring more attention to their social media accounts on sites like Facebook and Instagram.  Here are four ideas to guide you in the right direction if you're considering this for your dental practice.
Run a naming contest.
If this is the first year that you have ever used the Elf on a Shelf for your dental practice, invite your patients to help you name him or her!  Take a picture of your elf, post it on your social media accounts like Facebook and Instagram and encourage comments.  You can create a contest by saying, "Pick a unique name, because the name we choose will win a $25 gift-card!"  Encourage patients who come into your office to participate by asking them to follow your practice on social media and leave a comment.  The more people you tell, the more engagement you'll receive.  Don't forget to post a picture of the winner when they come to pick up their prize.
Show off areas that patients may never see.
Patients connect with you on social media to get to know your dental practice not as a business, but as a group of real people.  Part of that is letting your followers "behind the scenes" by showing them places in your office that they may never see.  Consider taking pictures of your elf in the staff break room, dentists' office, supply areas and anywhere patients may not have seen.
Post pictures of your elf with patients.
Post pictures of patients with your elf.  Kids will love getting to interact with him or her and posts with kids always get LIKES.  You could post kids who are having their first visit, are cavity free or who simply love visiting your practice. Don't forget to have parent permission to post pictures. Note: You may want to make a special place for your elf to "pose" for photos as the legend says kids aren't allowed  to touch him or her!)
Show your elf "getting into trouble".
One of the things everyone loves about Elf on the Shelf is all the funny situations he or she can get into.  You can find tons of ideas online, but for a dental practice you have a unique opportunity to show off your tools and treatment areas.  People love to see the elf make messes, and do silly things.  Poll your staff and brainstorm a few ideas and then work together to set them up.  These posts are guaranteed to get LIKES, SHARES and COMMENTS.