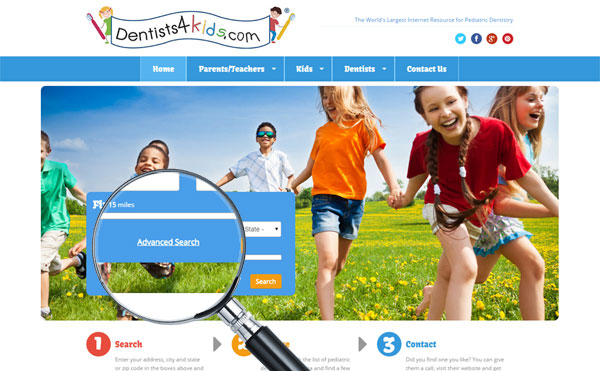 Important Changes to the Dentists4kids.com Directory
Please check your listing for accuracy.
We are proud to announce that our Dentists4kids.com directory has undergone major changes recently that will benefit your practice immensely. Dentists4kids.com (a sister company of Smile Savvy) is the largest directory of pediatric dentists in the world, helping parents find a pediatric dentist in their neighborhood.
We provide two types of listings, Basic and Featured (previously referred to as "Premium Listings").  Basic listings are complimentary, but only contain your address and phone number, featured listings offer so much more.
Not sure whether you have a Basic Listing or a Featured Listing?
Simply go to www.Dentists4kids.com and type in your practice zip code.  All Featured Listings show up first in the search you are performing, followed by Basic Listings.  You can update or upgrade your listings while on our website.  Be sure to complete your listing in order to reach more people online.  Featured Listings are still the same low cost of just $240/year and provide a 6 month money back guarantee.
What Is Required From You? Simply visit Dentists4kids.com to be sure your listing is accurate.  You can click on the "Dentists" drop down menu to add or update a listing.
Are you a Featured Listing customer? Visit Dentists4kids.com/update and complete the form allowing us to add the following new updates to your Featured Listing (for free):
1) Services You Provide
2) Insurance Plans You Accept
3) Five (5) Images
4) Summary Description (25 word description for the directory)
5) Practice Description (for your separate listing page)
By completing this information your practice is given a fully optimized page that can be found on search engines even apart from our directory. The page directs visitors to your website for more information. ALL OF THIS IS INCLUDED IN YOUR CURRENT FEATURED (PREMIUM) LISTING.
UPDATE YOUR LISTING NOW TO BEGIN BRINGING MORE NEW PATIENTS TO YOUR PRACTICE.
Your business and practice success is VERY important to the Smile Savvy/Dentists4kids.com team. Visit our website to see all of our products and pricing. Please contact us if we can answer questions or be of further help with your internet marketing needs. You can reach us at info@smilesavvy.com or 877-337-7037.