Dentists4kids.com, Smile Savvy's sister company, is proud to offer the largest pediatric dental directory on the Internet with top listings on all of the major search engines. We receive thousands of hits each month from people looking for a pediatric dentist in their neighborhood.
The Dentists4kids.com directory offers two types of listings for practicing pediatric dentists:
Basic Listings
Complimentary listings on our directory, showing only your address and phone number.
Featured Listings
A powerful benefit for your practice as another way to be found on local internet searches with priority placement, review building, personalized listing pages and Review Pro Lite.
All of Smile Savvy's Website packages include a complimentary Featured Listing on the Dentists4kids.com directory for one year with Review Pro Lite, a Dentists4kids-only version of our reputation management tool.
Are you listed in the Dentists4kids.com directory? Check It Now
A Dentists4kids.com Featured Listing is only $240/year.
You can also get a basic listing added to our directory for free.
Priority Placement in Search Results with Reviews
With a Featured Listing, you will be placed above ALL basic listings. When someone searches for a dentist using any search query, they will see a results page with all Featured Listings pushed to the top, regardless of the type of search. These listings are highlighted with a different color and a FEATURED badge to stand out more.
Your logo, web address and a 25 word summary are also present to give the listing more importance in the results. In the map results, your listing will be marked with a red marker and a popup with your address, phone number, logo and a link to your listing page. Satisfied patients can also leave you a review, which can work alongside Review Pro for maximum exposure.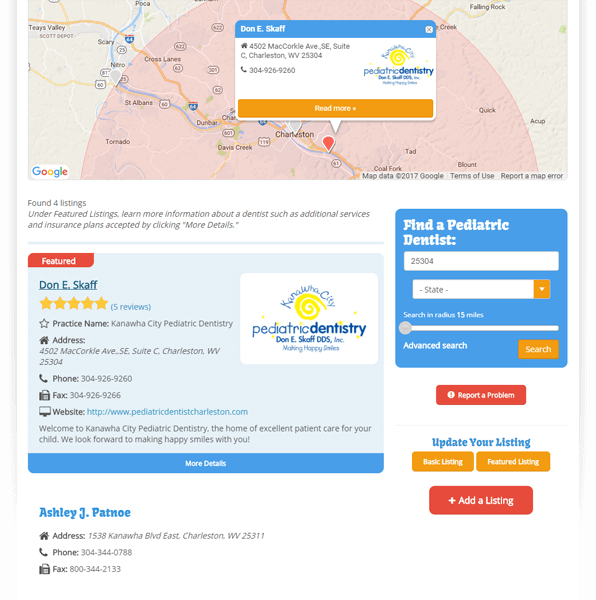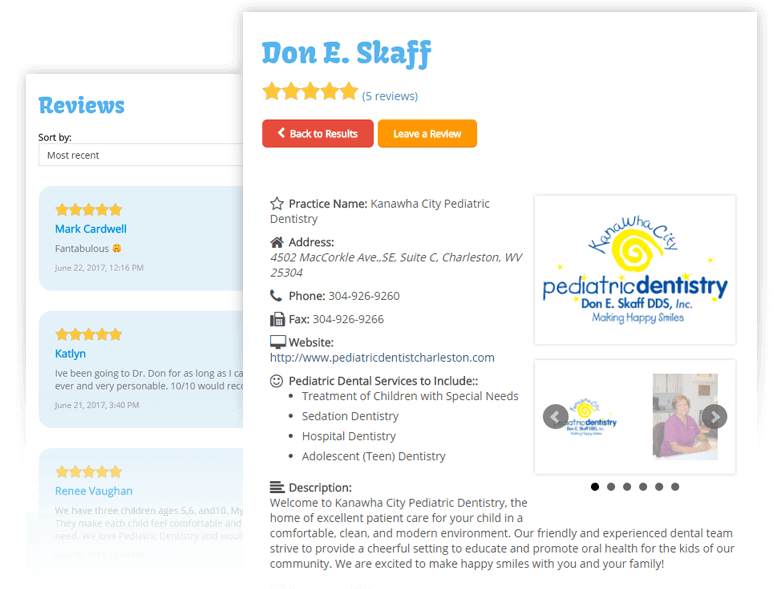 Personalized Listing Pages
With our Featured Listing, you can add as much information as you'd like to your listing page to highlight why your practice is unique. Your listing can include up to 5 office photos, a practice description – information about you, your office and what sets you apart  -and even list additional special services you provide and insurance plans you accept.
When parents search, they will be able to narrow their query by the special services and the types of insurance plans offered. ONLY Featured Listings show up in those search results.
Patients can also leave a review on your listing, exclusive to featured listings. These reviews show up on your page as well as in search results.
Optimized Listings for Search Engines
Google and other search engines are providing higher ranking to search directories. Websites such as Google, Yelp and Healthgrades always show up in the top of the search results for "pediatric dentist" in your area.
With a Dentists4kids.com Featured Listing, your listing page will be optimized for search engines just like your Google, Yelp and Healthgrades pages. This means higher rankings for you and more places to be found.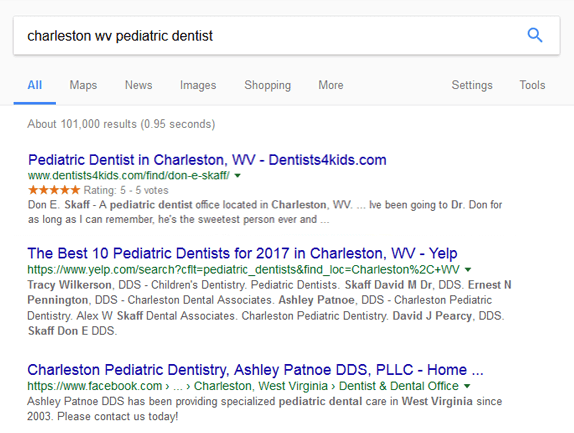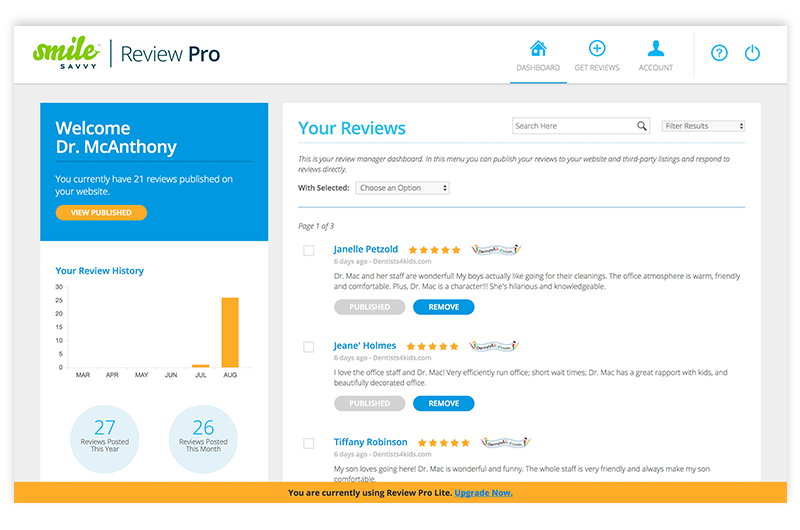 Build Positive Reviews with Review Pro Lite
Featured Listing subscribers receive free access to Review Pro Lite, a powerful reputation management tool that allows you to manage and build reviews on Dentists4kids.com. Review Pro Lite allows you to build reviews via email or text message, sending patients to a page on your website that helps filter our negative reviews. You'll receive notifications via email when any review is posted about your practice on our directory and you can easily stream your favorite reviews directly onto your website.
Interested in building even more fantastic reviews popular directories like Google, Yelp, Facebook, and Yellow Pages? Review Pro Lite can be upgraded to our full-featured Review Pro product at any time.
Your location highlighted on the map in red as well as driving directions to your practice.
Your listing appears on a reputable, high traffic website that has been on the Internet since 2000.
Add a Featured Listing for a second location for free.
Build reputable reviews to the largest pediatric dental directory on the internet.
Stream your favorite reviews on your website with Review Pro Lite included.
No contracts and you can cancel at any time.
A 6 Month Money Back Guarantee. If you're not satisfied within the first six months, we offer a full refund.
A Dentists4kids.com Featured Listing is only $240/year.
You can also get a basic listing added to our directory for free.