ePatient streamlines your patient registration process, ensuring  happy patients, an efficient front desk, and a confident dentist.
ePatient – HIPAA compliant online forms – allows patients to complete all of their new patient forms from the convenience of a desktop, tablet or mobile phone. Best of all, your office receives the forms immediately.
What is ePatient?
ePatient is two things: Online Patient Registration and a Pre-Clinical Assessment System. Patients register online using your ePatient portal to complete all of the necessary forms. Instead of just getting a static display of their responses, you get an interactive, summarized, and medically assessed patient review that helps you pinpoint:
Critical risks (i.e. hemostasis issues, risk for infection)
Medical conditions and how they might effect their treatment
Follow up details about conditions
Drug descriptions
Drug actions, interactions, and reactions
Protect your patients and make your day more efficient with complete pre-clinical assessments for every patient you see. New staff can be trained much easier with the simple to understand drug descriptions.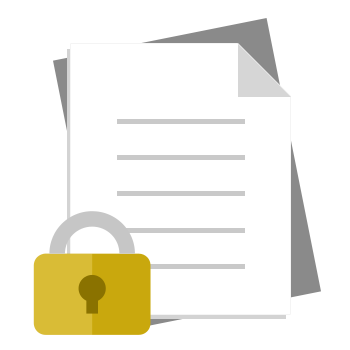 ePatient allows us to seat brand new patients within 5 minutes of arrival and streamline our appointments. I highly recommend ePatient to other pediatric dentists!
ePatient works alongside other systems for maximum efficiency.
Ask us how it works with your practice management system.
We are a Dentrix Connected Partner.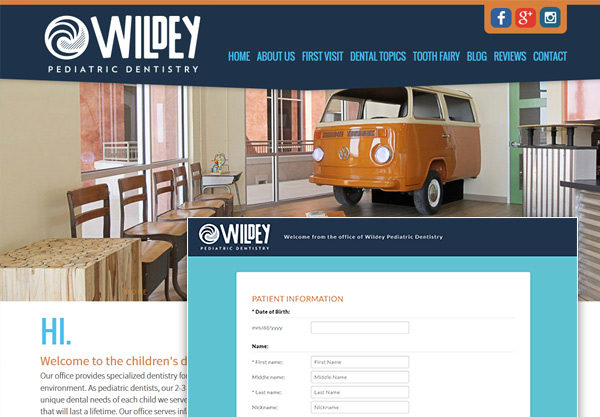 Forms Built to Match Your Website
Your dental forms will be designed to match the colors of your website at no extra charge.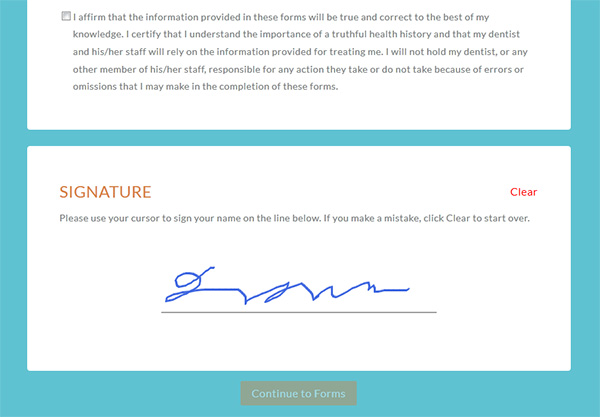 Mobile-Friendly Digital Signatures
Our digital signatures are HIPAA-compliant and work on all devices from mobile phones to desktops.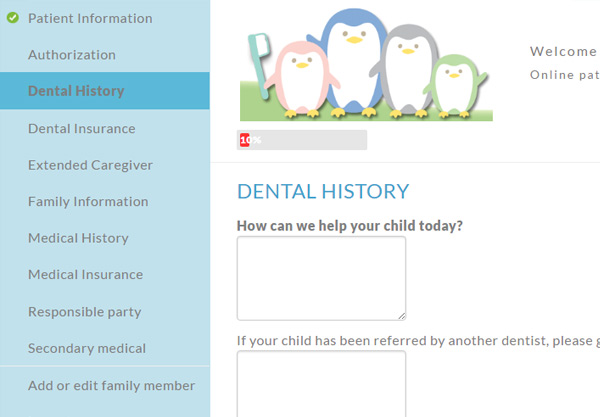 All Your Forms, Easy to Navigate
Parents can navigate through the forms in any order and even come back later to finish (a link is emailed to them.)
Frequently Asked Questions
Will the forms look just like my PDF forms?
No. ePatient provides an online registration system with forms optimized for online and mobile use. Custom forms can be created to collect specific information, but the look will not match PDF appearance.
Who created the Pre-clinical assessment content?
The Clinical Team consists of distinguished individuals who have created the libraries and point-of-care support information that gives ePatient forms their distinctive character and underlying value. They maintain oversight of the clinical information to keep ePatient relevant to the ongoing practice of dentistry.
How long does the setup and installation take?
This depends on the number of computers in the office. Less than 15 computers usually takes an hour to setup.
What kind of training is included?
Online training is scheduled after installation concludes, and usually lasts for an hour. Remote access is set up so that a support representative can quickly answer any questions. Chat, phone and email support is also available.