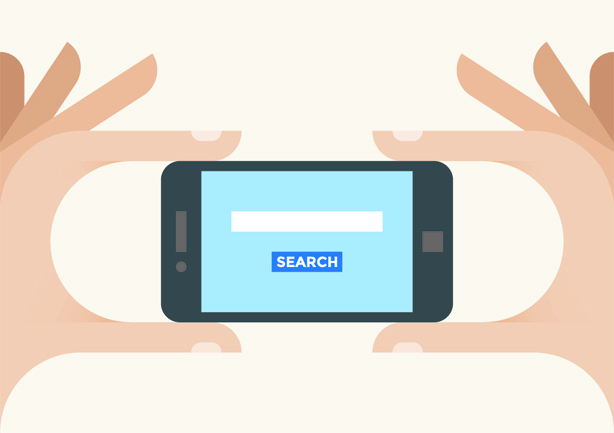 Understanding Search: A Quick Primer for Dentists
One of the most frequent questions our customers ask is, "How do I show up better on Google?"  Our customers understand the value of showing up on page one and they often want to know what we can do to help improve their results.  In order to understand your current website performance and what you should expect from your website company, it's helpful to know how search works.
Here is a quick primer to help explain the basics:
1. Understand the layout of a SERP.
When you search for something online, the list of results is called the SERP, or the search engine results page.  The SERP is broken down into several sections: Paid Listings (Google Adwords), Local/Map Listings, and Organic Search Results.
2. Find out how Search Engines work.
Search engines function by crawling the internet, collecting information on over 60 trillion web pages and sorting those pages by over 200 unpublished factors.  Those pages are then kept in a massive index and ranked to give users the most accurate and relevant search results possible.  IMPORTANT NOTE: It can often take several weeks for Google to pick up new websites and changes to existing websites.  The crawling process is continual, but there is no guarantee of when changes will begin to appear in search.  Google has put together a terrific visual website that explains search and can be found here.
3. Know what keywords you should rank for.
Potential patients are entering specific keywords to find a dentist in their area.  You obviously want a high ranking for the most frequently searched terms in your market.  The more keywords you attempt to rank for, the less effective your efforts will be due to simple dilution.  You want to find the words most frequently associated with your specialty along with the geographic area most closely associated with the physical address of your practice.  Actual keywords will vary from practice to practice due to the size of your market, local competition and other factors.
Common mistakes?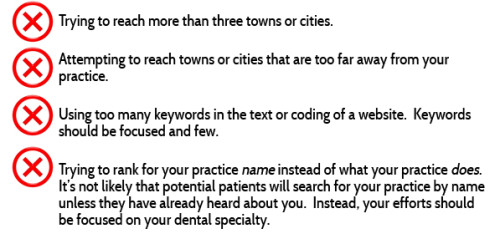 4. Learn what you can do to rank higher
While search engines such as Google don't reveal the exact formulas employed to rank websites, there are several tactics that can be used to give your website the best chance of gaining a higher position on a SERP.
 How to rank higher: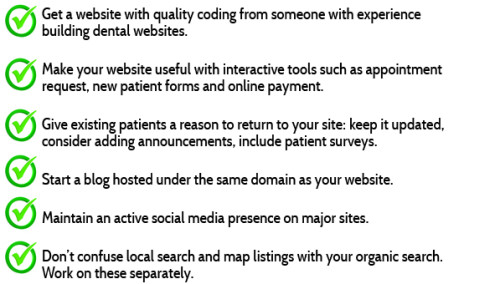 Understanding how search engines function will help you to gain insight into what your website can do to improve.  It can also provide realistic performance expectations and save time that may be wasted attempting to rank for irrelevant search terms.  Find out more about how Smile Savvy builds websites that consistently rank at the top of search engines by reading our blog post Do Smile Savvy Customers Need Outside SEO Assistance? OR check out the website packages on Smile Savvy.