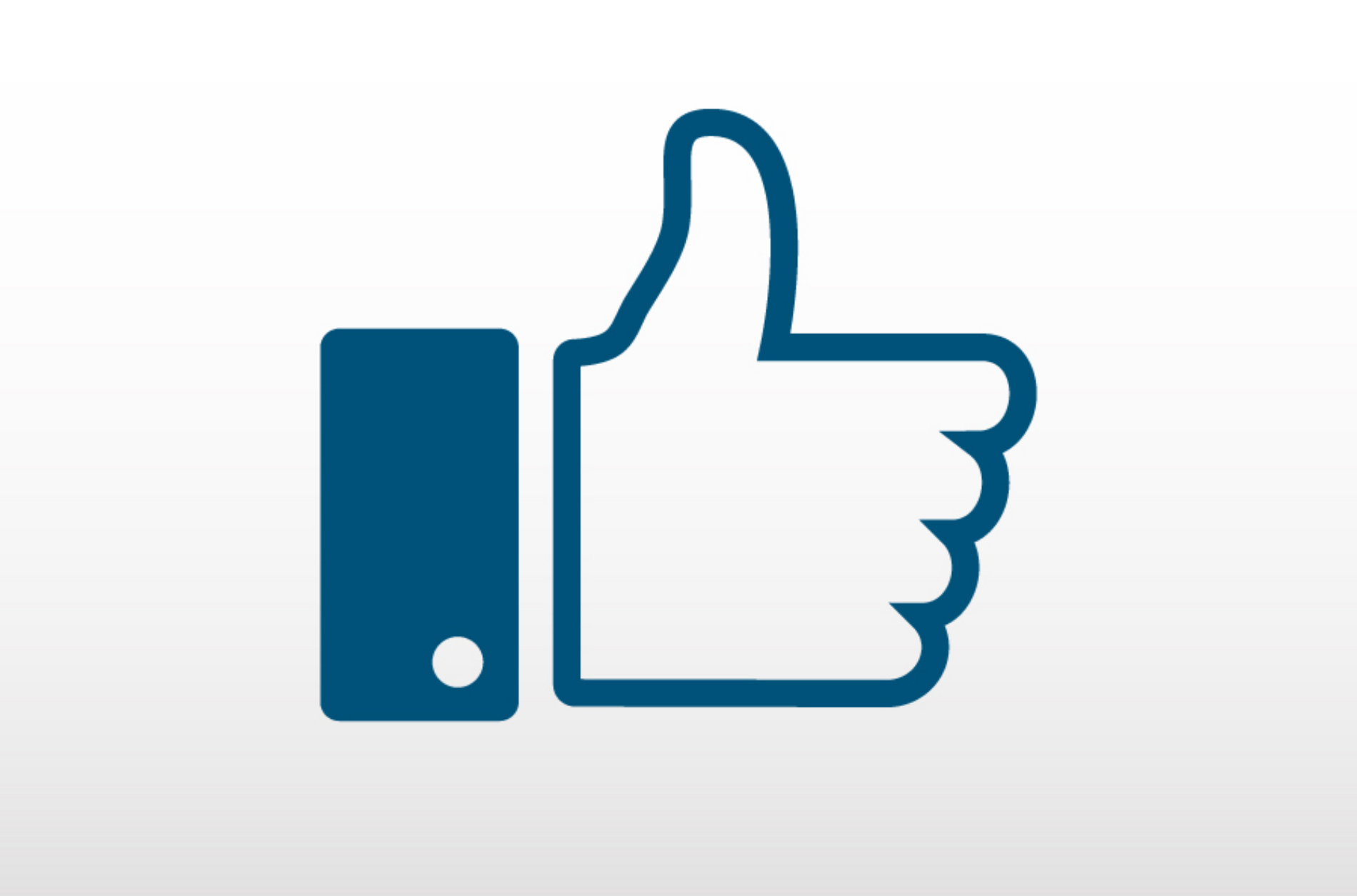 These Dentists Crushed It with Five Fantastic Back-to-School Facebook Posts
August is back-to-school season, and the perfect time for pediatric dental practices to engage with their local community and reach more new patients. These five dentists shared epic back-to-school Facebook posts that are great examples of using back-to-school as a theme for your own social media posts. 
1 – Class Sponsorship – By Eastern Orthodontics & Pediatric Dentistry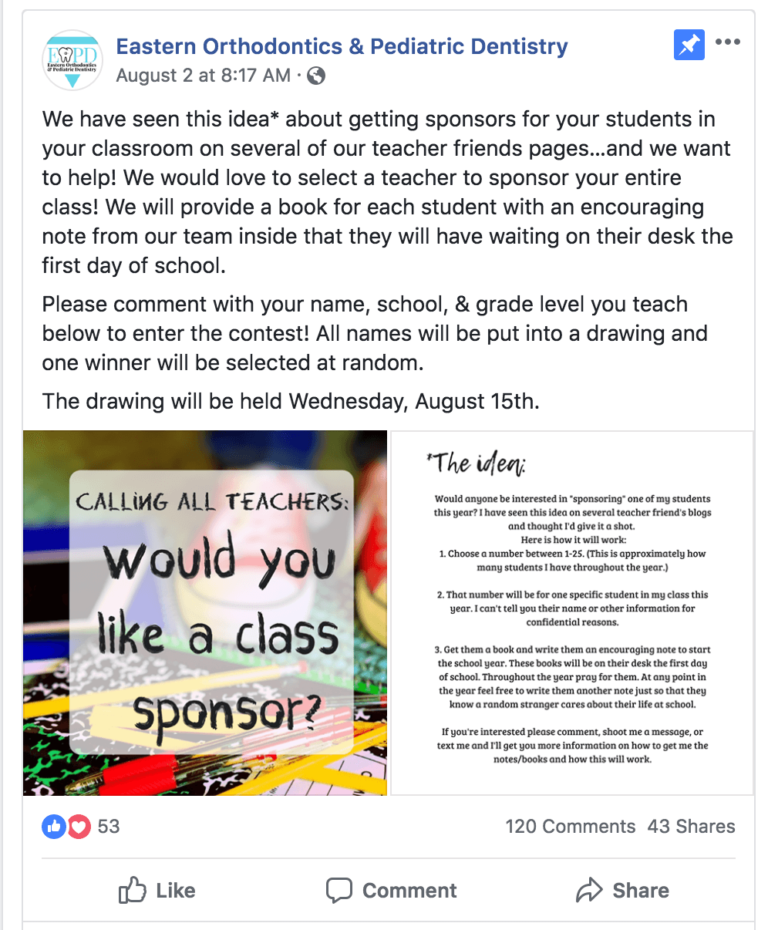 Eastern Orthodontics' outreach contest is a great way to build relationships in the community and support local teachers and students. They pledged to sponsor a teacher's class and provide that class with books. This contest connects local teachers and dental practices and is a great way to give back to the community you serve. You can change this contest to provide the winner with school supplies, backpacks, sporting equipment or whatever you see fit.
2 – Back-to-School Mouth Guard Sale – By Dentistry Just for Kids and Orthodontics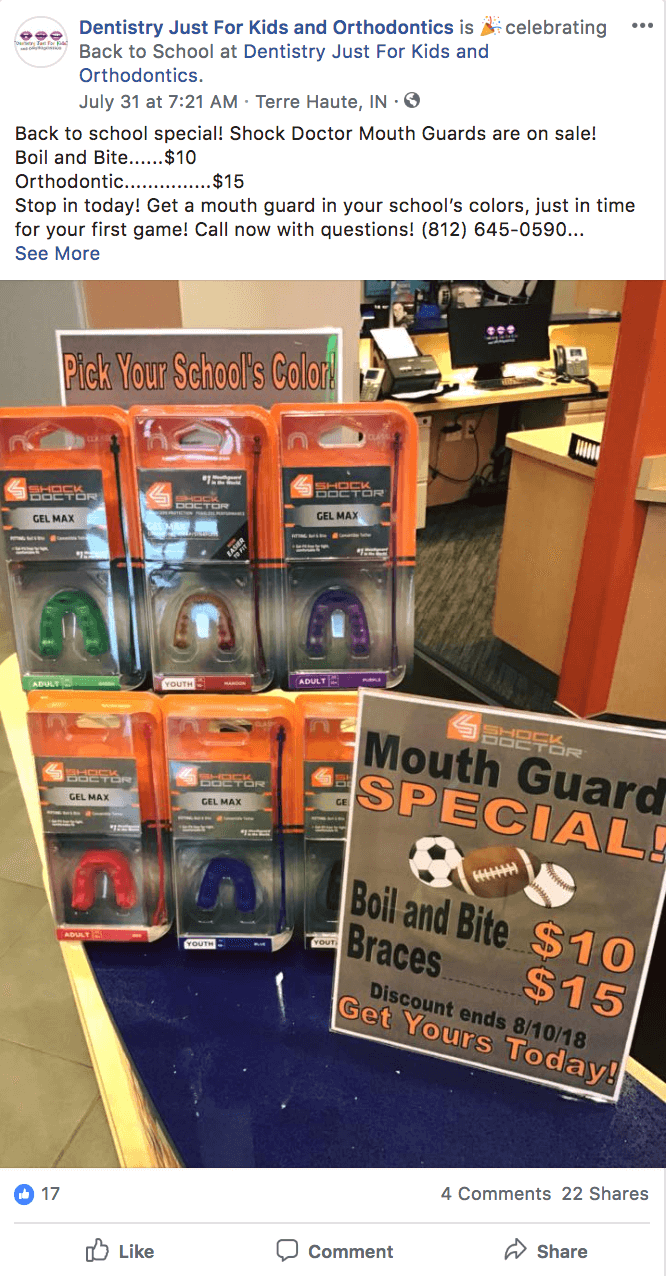 This simple back-to-school contest helps encourage student athletes to protect their teeth this upcoming sports' year. But, don't let this contest be confined to just back-to-school summer months. You can also run this contest to coincide with other seasonal sports that premiere in the late winter and early spring.
3 – Crayon Counting Contest – By Westside Pediatric Dentistry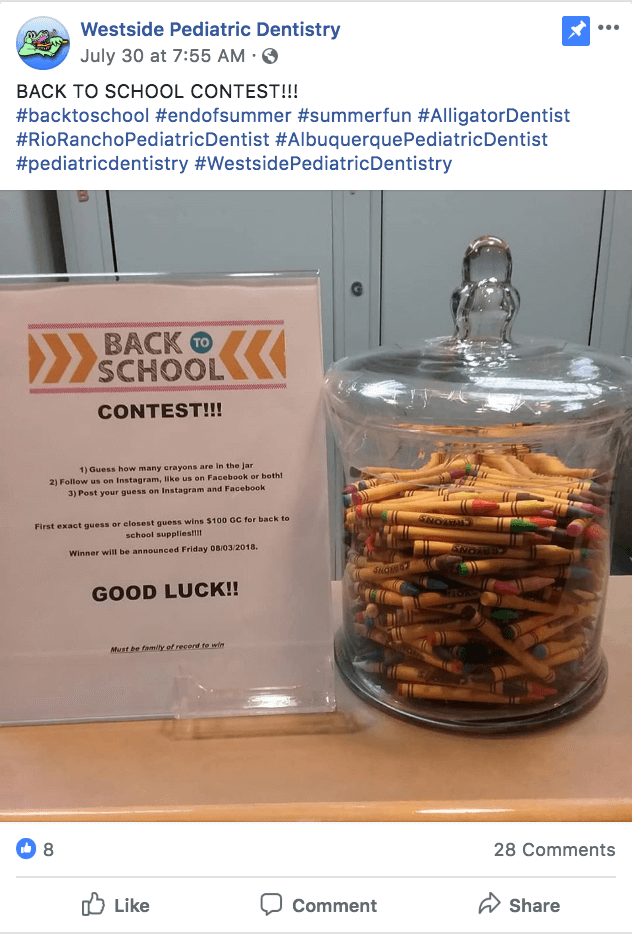 Westside Pediatrics' crayon counting contest is a brilliant way to generate comments and cultivate new followers on Instagram. They simply filled a jar with crayon, and whoever guessed closest to the number of crayons in the jar received a $100 gift card for school supplies. Gift cards are incredible contest rewards because people can customize their prize to fit their exact needs.
4 – Back 2 School Bash – By Tots to Teens Pediatric Dentistry & Orthodontics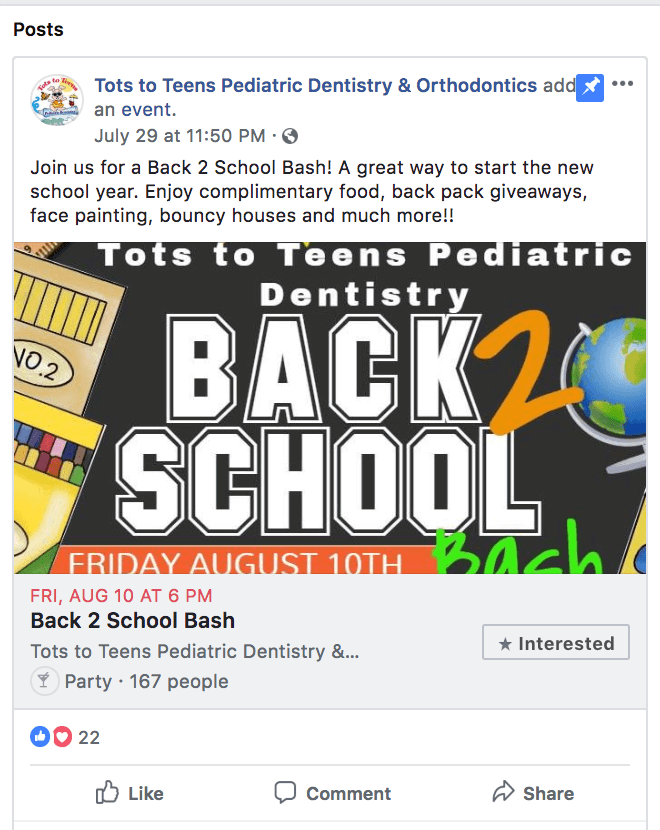 Tots to Teens Pediatric decided to turn the traditional Facebook contest on its ear, and instead chose to throw an awesome back 2 school bash. The bash supports local school children by giving away back packs, school supplies, and giving children and families a fun time while also introducing them to their dental practice. It's the perfect way to support your local community and build actual, lasting relationships with some of your local patients.
5 – Backpack Contest – By Blume Pediatric Dentistry
Are you wanting more direct referrals? Then you may consider taking a note form Blume Pediatric and trying a referral contest! This is a simple way to get people to enter a contest in-office, OR, you can have contest participants enter online by tagging referrals in the comment's section. A backpack full of school supplies is a great reward that any student could use.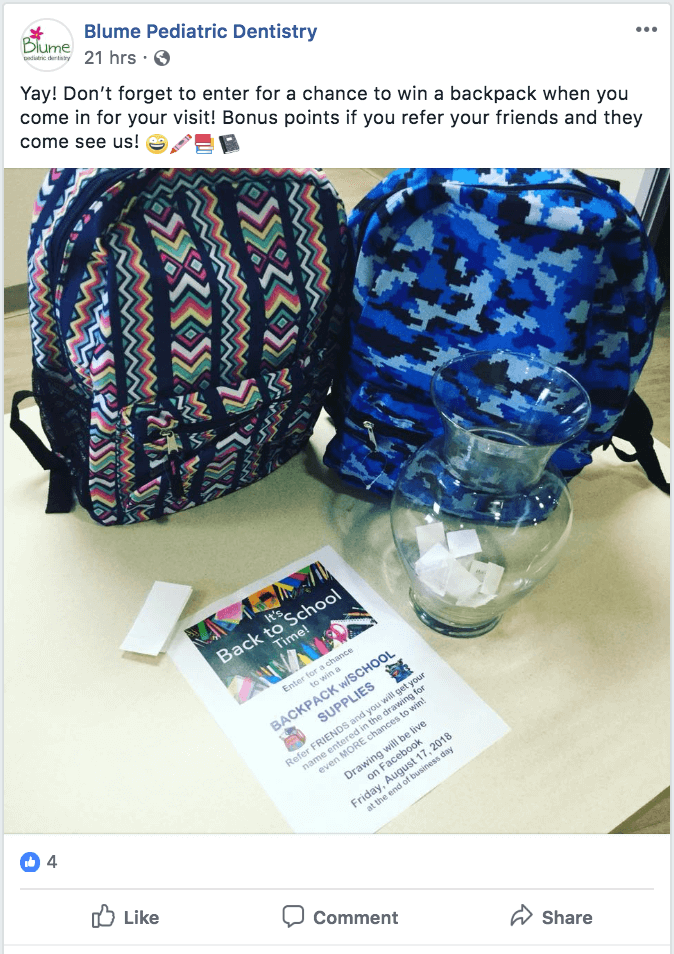 Use Facebook to Connect
Facebook is a critical tool for dental practices to gather more new patients, and build firm roots in the community that they serve. Each of the ideas above are just a few ways that your practice an get more active on the platform, and engage with your patients and their families.
Smile Savvy takes the guesswork out of social media for busy dentists by providing comprehensive social media management. Our social media packages help dentists grow their followers on popular platforms, and connect them to more local patients.