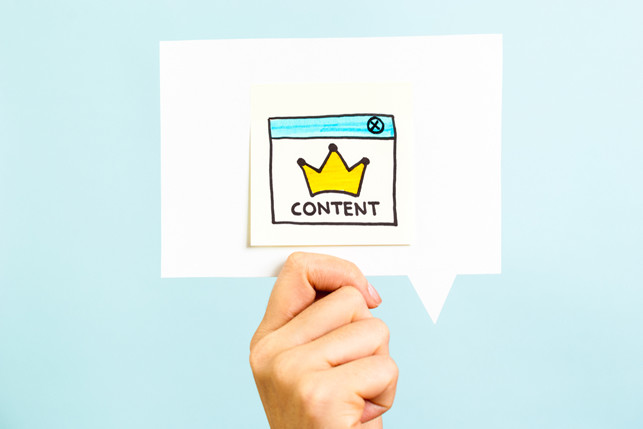 Content Is Still King
From promotions to pamphlets, your marketing strategy is limited only by your creativity and budget. But how can you serve your patients when they're not in your office? What can you do to provide them value, and turn them into brand advocates for your dental practice? The answer is simple: provide great content. However, the solution to becoming a fantastic content provider is a bit more complex.
First, What is Content?
Content is any form of communication (articles, blog posts, graphs, videos, podcasts, images, etc.) that informs your audience and helps them make a decision or take an action or gives them insight into a foreign subject. From Facebook to your office lobby, content can appear just about anywhere both online and offline.
What Makes Great Content?
For the purposes of this post, let's differentiate good and great content. In basic terms, good content gets read, while great content gets shared. For tips on getting shares, check out our post about creating shareable content!
Providing great content is a time consuming, interrogative process that requires forethought, planning and opportune execution. Regardless of platform or medium, the ultimate underlying goal for any piece of content is to provide the recipient with value.
Great Content…

1 – Is Original and Unique
Copied content, or content that has been lifted from another publication without permission is not only plagiarism, but it can also confuse search engines and doesn't help your search engine rankings. Which is why unique content is important: original content appears more relevant to search engines, and can help your search engine scores. It's much more difficult to obtain more new readers if your content isn't being recognized or prominently listed by search engines.

2 – Considers the Audience
If you know your audience (for pediatric dentists this is parents of young children) then you know what they are looking for in content. You are also aware of their expectations and have a good handle on the type of content they will want to read. Use your familiarity with your audience as a compass to guide you when planning your content creation strategy.
3 – Is Actionable & Useful
Before crafting any piece of content, you should ask yourself: "How will my audience use this content?" If you are struggling to come up with an answer, then you may not have chosen a viable topic that will give you enough substance to cover. However, if you begin creating content with the mindset of helping your readers take action, then you are more likely to come up with a fulfilling topic that others will find useful. Consider what goals your average reader may have, and then create content that can help them achieve those goals.
Try to think of common problems your audience may encounter. A good post idea for pediatric dentists may look something like: "5 Ways to Make Your Smile Shine at Home." This headline will grab readers, and the content will give them advice which they can act upon to achieve a common dental goal – getting brighter teeth. Begin all of your content creation with your readers in mind.
4 – Includes Visually Appealing Imagery
Images help drive home the message of your content, but they also make your post more appealing to your audience. In fact, articles with images earn more than 6 times the amount of engagement than those without images. Tweets containing images earn 18% more clicks, 89% more favorites and 150% more retweets than posts without images. Images carry weight with audiences, so the bottom line is that if you want your readers to engage with your content and to share it (you do) then include a relevant image.
5 – Answers a Common Question Related to Your Field
As a pediatric dentist, you've heard the questions parents ask in your office, and understand their concerns. Where there are questions and concerns there are content opportunities! Think of some of the common questions your patients routinely ask you. Now how many of those questions have been asked more than once? That's basic demand. If your patients are constantly asking you some of the same questions, then there is clear demand for your expert opinion on the matter. Try to think of the 10 most common questions, and create content that helps answer those questions and gives clear, useful advice to your readers.
6 – Has a Catchy Headline
On average, 8 out of 10 people will read the headline of an article while about 2 in 10 will go on to read the full story. This makes it essential to have a headline that compels people to read the entire story. Catchy headlines push viewers to read the articles by teasing the content in powerful ways.
An example: We're to write a story about the negative side effects of cavities, and one of the main takeaways from the story is that kids with cavities face more developmental issues than those without. Our boring headline may read something like: "Cavities can Hurt Your Child's Social Development." While that may be accurate, it's not very enticing.
A catchier headline might read something like: "Are Cavities Costing Your Child Friends?" This reads much better, and uses a compelling hypothetical that urges audiences to read on and find out more.
What Does Your Content Strategy Look Like?
Does your dental office provide your patients with value they can use outside of the office? Are you consistently writing blog posts that relate to the importance of your work? If you're not already producing content for your patients, then it's important that you start. Content marketing is one of the most powerful tools to boost your search engine rankings and to capture more patients.
Smile Savvy has a variety of content solutions available for your dental practice. Our most powerful tool is our Ultra Social Media Package, which includes setting up your blog, bi-weekly blog posts, and weekly social media posts. Click here to learn more about how Smile Savvy can help create the perfect content for your website, and start engaging with your patients outside of your office.