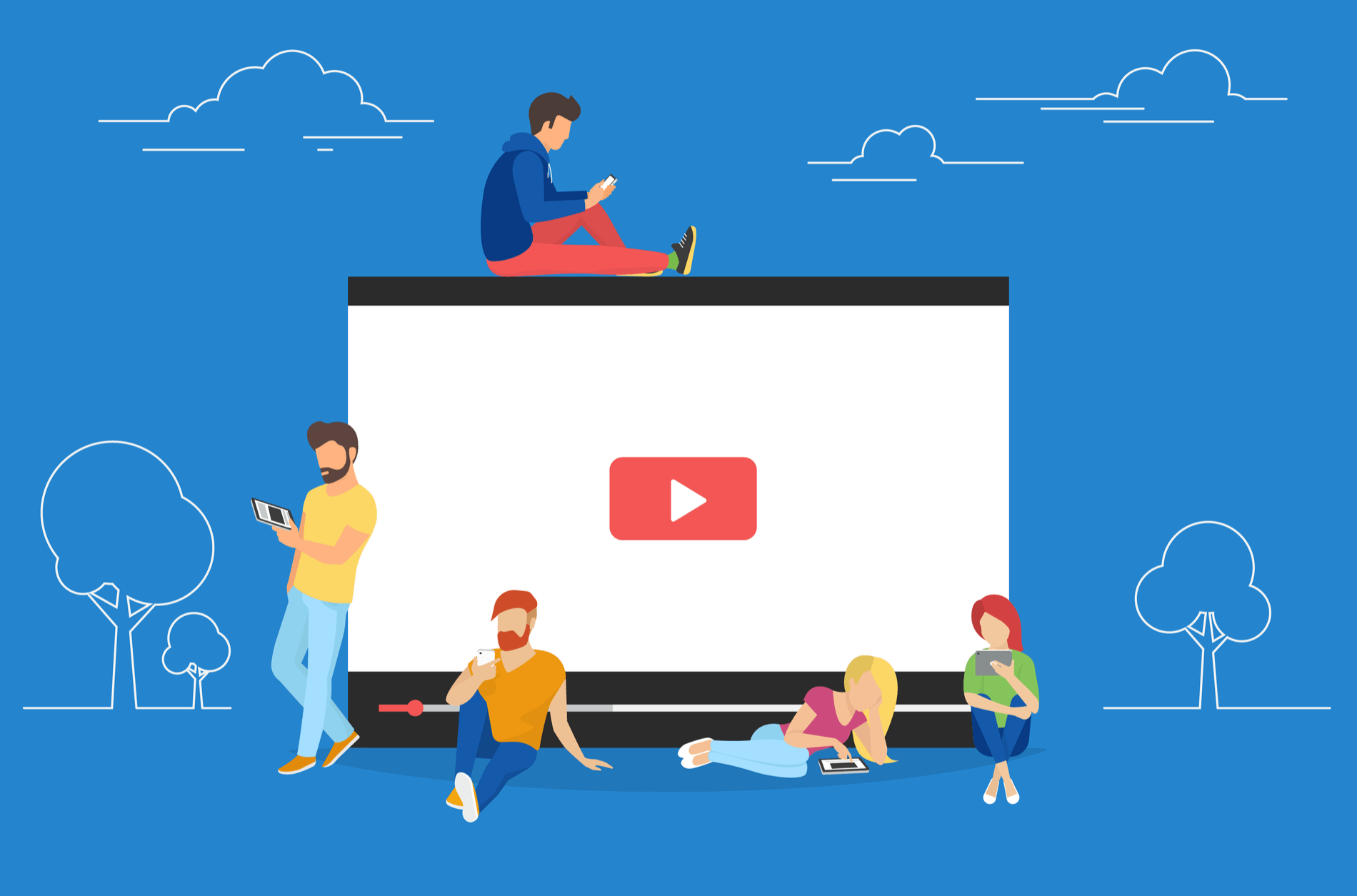 5 Video Ideas that will Get Your Dental Practice Found Online
By 2019, experts expect that 80% of all Internet traffic will come from videos. Video content is rapidly growing in the digital space, and dental practices that produce better videos can attract more patients and dominate their local market.
First: Quick Rules about Online Videos
Every online video has a different audience, but widely watched videos have some things in common that dental practices can incorporate into their videos to gather more clicks.
Keep It Short
A survey found that most consumers prefer online videos to be between 1 and 2 minutes long. Don't try to recreate "Gone with the Wind" with your online videos, but try to plainly communicate one or two points to your audience that they can easily understand. 
Use Humor
A major study found that 71% of people watching videos online are hoping to laugh. Try to create humorous videos that show off your dental practice's personality. Other than laughs, that same study found that 59% of people want to see a good story, and 51% of people want to be inspired.
Share on the Right Platforms
According to a recent article, 40% of all consumers watch most of their online videos on Facebook, and 42% of all consumers use Instagram Stories to follow brands online. If you want your dental practice to get real audience traction with your videos, begin sharing them on Facebook and Instagram. 
Video Ideas you can Use in Your Dental Practice
1 – Contests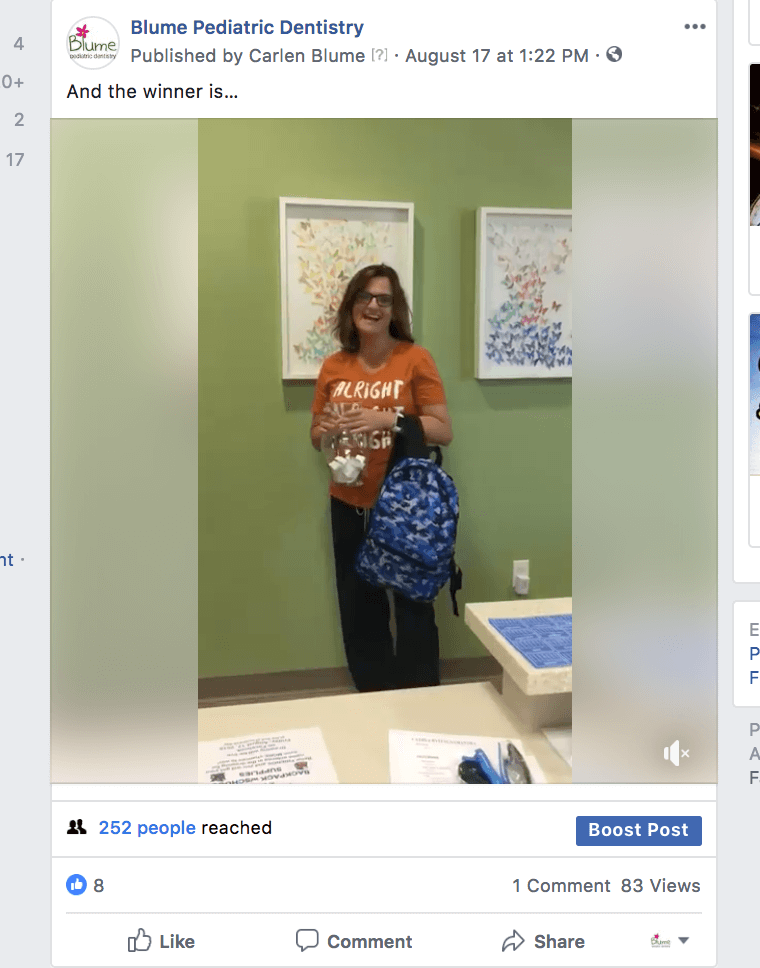 Videos are a great way to share fun contests with you local market. Here, Blume Pediatric Dentistry uses video to announce the winner of a raffle contest, and shared it on Facebook. You can use videos on social media to announce a new contest and gather entrants, as well as follow up and post the results. 
2 – Office Tour
An in-depth office tour can help persuade new patients to select your practice over your competition. Office tour videos are great pieces because they can live on your dental practice's website, and you can share them at will and bring people back to your practice website. 
3 – Fun with Patients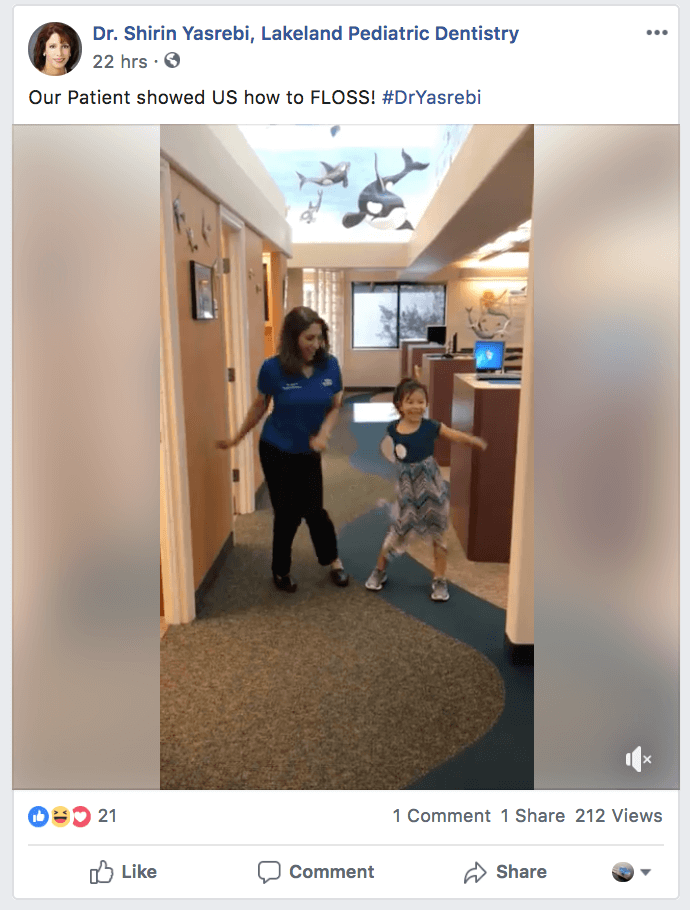 Playing on humor, interacting with patients is a fun way for pediatric dental practices to show off their fun side! Lakeland Pediatric Dentistry got one of their patients to teach them a popular dance, and shared it on Facebook. This kind of video is easy to achieve, and gets your patients involved, which can be a lot of fun. 
IMPORTANT: If you do decide to post something featuring one of your patients, you must have written permission from their parents or legal guardians to avoid any potential problems.
4 – Special Services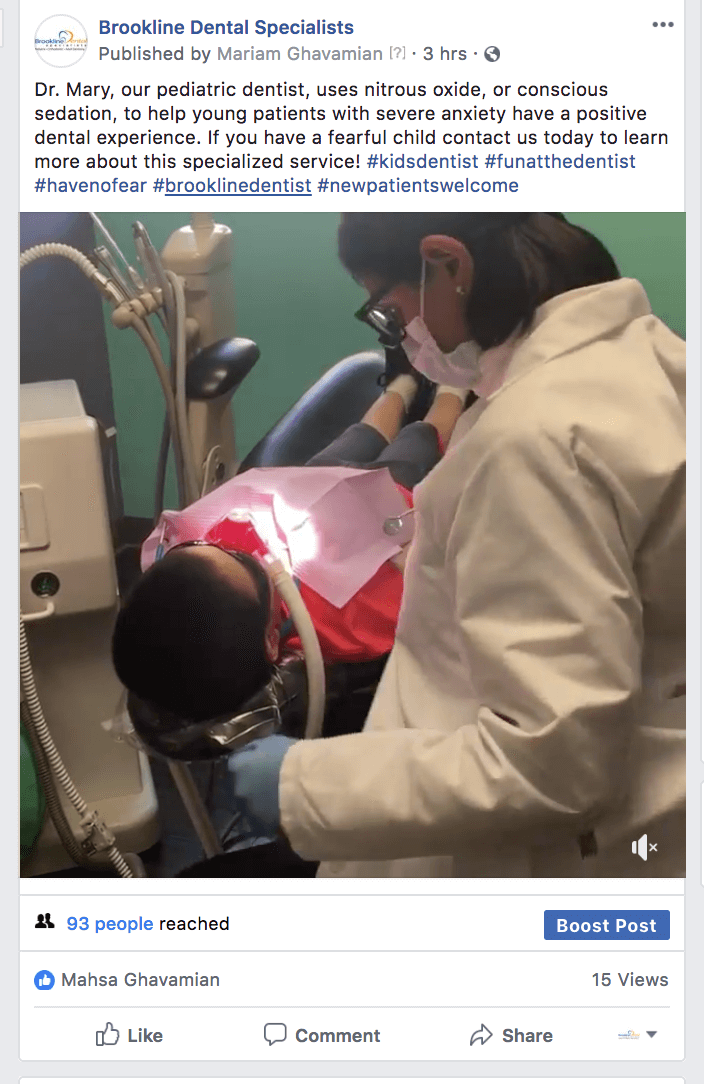 Videos are a fantastic way to quickly announce that your dental practice offers some sort of specialized treatment that your competition may not provide. Brookline Dental Specialists used their Facebook page to share that their practice offers conscious sedation – something that parents care about.
5 – Testimonials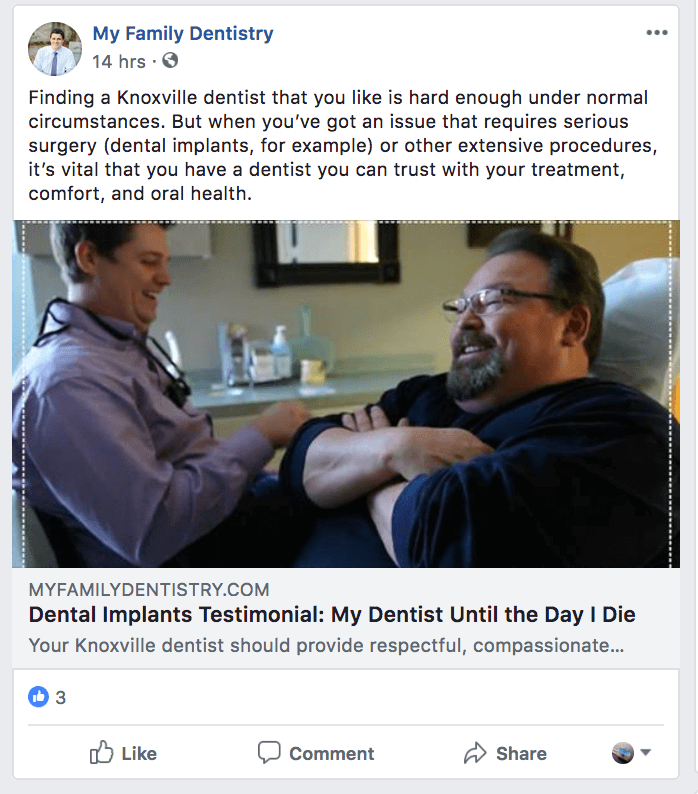 Sometimes, patients (or their families) are so pleased with their dentist that they want to share about their experience online. Testimonial videos can be a great tool to endear your practice to new patients. My Family Dentistry used video to help one of their satisfied patients share their praise. 
When pursuing testimonials, identify a patient that you have a positive relationship with, and ask if they'd consider promoting your practice on video. Be sure that they sign a consent to appear on video. IF the patient is young, ask if their parents would want to share about the positive experience they've had at your dental practice.
Videos Matter
Did you know that Smile Savvy's Ultra Social Media Packages includes a commercial quality office video? Our social media services take the guesswork out of social media, making it easier for dentists to pay attention to their patients, rather than their digital marketing strategy. Contact us to learn more about how we can help your dental practice connect to more patients online.