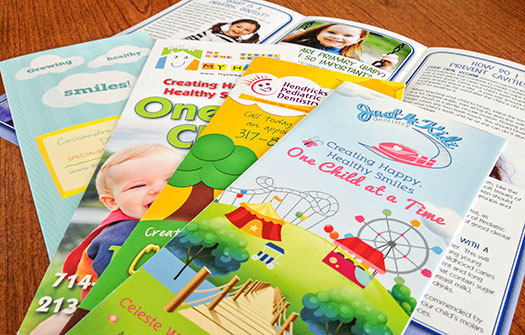 Dental Marketing Brochures: Timeless Marketing that Continues to Attract New Patients.
Print marketing is a timeless technique that still attracts new dental patients, even in the digital age. As your dental marketing experts, Smile Savvy understands that it's important to supplement your online presence with "real world" print media.  Smile Savvy provides turn-key dental marketing brochures that are personalized for your practice. Our brochures are an effective marketing tool that contain valuable, educational content similar to what's seen on our websites.   Smile Savvy brochures have proven results and most of our customers who have tried them come back to order more.   Here are several ways that you can use marketing brochures to grow your dental practice.
Brochures at Pediatricians' Offices
We have seen dentists use Smile Savvy brochures effectively by taking them to referring pediatricians' offices accompanied with a gift to thank them for their referrals.  We have found that pediatricians love having a professional dental brochure to hand out to their young patients, educating them on the importance of proper dental care starting at age one.  Most of our dentists that order the brochures call back within a few months to place another order, surprised that they went so fast!
Health Fairs
Local health fairs are a great place to let your community know about your practice.  Having printed marketing also allows you to give potential patients something physical they can take with them.  With links to your website and social media, the brochures show them exactly where to go for more information.
Dental Health Month
February is Dental Health Month and a great time to provide information to your community about finding a dental home and basic oral care.  It's also a great opportunity to introduce your practice to parents in your city who may have never heard of you.
Schools and Daycare Centers
Placing your brochures at local schools and daycare centers is a terrific way to put your message directly in front of your target audience.  Smile Savvy brochures do more than simply advertise your dental practice. They help parents become more educated about the importance of establishing a dental home as well as engaging them in early preventive oral care.
Referral Programs
Making brochures available to your current patients will give them an easy way to share your dental practice with their friends and family.  Word of mouth advertising has always been the most effective form of marketing.  A referral program coupled with printed brochures can truly help grow your practice.
Direct Mail Campaigns
Smile savvy can help you with your direct mail campaign as well.  We can mail your brochure or any other marketing piece directly to families in your community.  Our demographic matching allows us to target families with children in specific zip codes, income ranges, etc.  Contact us for a custom quote!
Want more information on what our brochures look like and what they can do for your practice?  Visit the Smile Savvy website today.